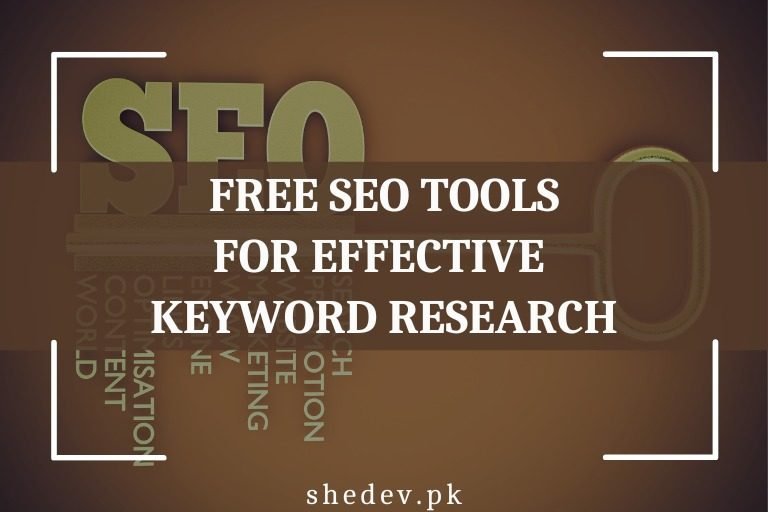 The Free SEO Tools help you to find competitive words to rank in google. But, first, we need to know what is SEO and why keyword research is important. 
Search Engine Optimization (SEO) is the process of ranking websites and webpages on search engine result pages. It can be done through various techniques such as optimizing content, backlink building, and researching keywords for better reach. SEO assists in increasing the organic traffic to a webpage. The google ranking strategies make the websites more easily discoverable by users while searching for relevant information. 
Keyword research is the most important aspect of SEO content. It helps identify the topics and phrases that your target audiences search for and allows you to create content that is expected to rank well in search engines. The keyword research provides aids in understanding the competition and potential traffic a keyword can drive.  
Understanding that, with the vast number of websites and similar niches available, it has become challenging to achieve high rankings on search engines. The competition among webpages to rank for specific keywords has become intense. Many individuals and organizations provide their services for SEO optimization and keyword research. 
In this blog, we will mention some of the best Free SEO tools for effective keyword research. These tools will assist in identifying relevant keywords, understanding search intent, and analyzing competition.
Here is the list of Free SEO tools to find keywords.
Google Keyword planner is a free Keyword research tool provided by Google. To start with keyword research, you need to create an account. While entering the keyword, to check the traffic and intensity, it provides you with a list of relevant keywords and search volume. It also helps in identifying the trending words or phrases also showing their rise or loss of popularity.
Google keywords planner also provides historical trends. This feature helps the users understand how a keyword has performed in the past and how is it expected to perform in the future. 
Answer the public claims that "there are 3 billion Google searches every day, and 20% of those have never been seen before. They're like a direct line to your customers' thoughts…" 
Answer the Public is a free keyword research tool that helps users not only to find keywords and phrases but also to understand the questions and prepositions that the audience is searching for. It is one of the best tools that provide ideas for optimized topics to create content around them.
You need to create an account on the site for more than one search and the daily limit is 3 search reports per day.  
Uber suggest is one of the Free SEO Tools for keyword research that allows users to find new and relevant keyword ideas. By showing the estimated search volume and list of keywords, this tool also offers the ability to export the results for further analysis. The tool also filters out questions and queries that users search for the seed keyword. 3 searches per day with the free version of the tool are allowed. 
UberSuggest was recently acquired by Neil Patel, who has since expanded the feature set. He is a well-known figure in the SEO and digital marketing industry.
Keyword Everywhere is a free extension. The best thing about the tools is that they can be integrated with multiple platforms such as Google, Bing, Amazon, and Youtube. It shows the monthly secure volume and competition data of keywords directly to your browser. It allows users to find useful keywords from whatsoever they browse which can be saved and used later for content creation. 
If you want to find both information and keywords at the same time, the Keyword Everywhere extension is the best.
Keywords Surfer is a browser extension for Chrome and Firefox that can be used to analyze the search results of a webpage. The best feature of Keyword Surfer is to provide real-time search volume on the webpage as you browse.
It will save a lot of time because after loading the page on your browser it automatically detects the keywords and their search volume.
To sum up, keyword research is a crucial aspect of SEO, and these Free SEO Tools can help in identifying relevant keywords and analyzing the competition. These tools provide valuable data and insights that can be used to improve SEO strategies and increase organic traffic to a webpage.
Grow with SEO!